The impressive historic center of the Flemish city Ghent (Belgium) is dominated by three towers: Saint-Bavo's Cathedral, the Belfry and Saint-Nicolas' church. The first one is the cathedral of Ghent, which makes it a center of clerical power. Those locations usually are prestigious places for a musician to work. The most important musical position at Ghent's cathedral was that of director of music. He was responsible for the musical education of the choir boys (the 'koralen'). These jung singers lived together with the music director in the 'koralenhuis' (the house of the choristers). They had a strict daily schedule containing music classes and liturgical services. After their change of voice, they left the choir school. Besides teaching, the director of music was in charge of the choir and orchestra of the church, and he had to compose liturgical music.
Of course, not just any musician could get appointed as director of music. Nevertheless, most of St-Bavo's directors of music have been forgotten for long. Some of them, though, deserve to be rediscovered. In the archives of St-Bavo's cathedral more than 130 compositions of Franciscus Krafft are stored. He was the last director of music in the eighteenth century. Sometimes he is erroneously referred to as Frans-Joseph Krafft. Whoever did research in eighteenth-century archives can easily understand how such confusion comes up. Such archives often are incomplete and inconsistent. Sometimes different persons are mixed up and get identified as one and the same person.
Franciscus Krafft was appointed director of music in 1769. He was 40 years old at that time. Before, he worked in Brussels, where he built a good reputation. His compositions had a considerable dissemination. Compositions of his have been found in archives of various important churches in the Southern Netherlands. These include psalm motets, masses, a requiem, litanies, etc. He also wrote an opera.
A recent cd recording made some of his compositions accessible for a larger audience. This is an enrichment, because those works are very pleasant to listen to and are skillful composed. On the cd, two psalm motets from 1766 are included: De Profundis (mp3 – source) and Levavi Oculos Meos (mp3 – source). Krafft divided the psalm text into segments that were either sung by the choir, or by one or more soloists. These were accompanied by a rather large orchestra.
At the end of the century, bad times arrived for Franciscus. In 1793 he quitted his job, probably because of health problems. After the French occupation the conditions for church musicians declined dramatically. From 1794 on, the cathedral was not able to pay the musicians anymore. Soon, not much was left of the once glorious choir and orchestra. In 1795 Krafft died, four days after finishing his last composition In exitu Israel.
Recommended cd's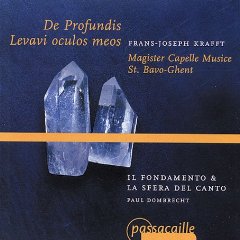 Frans-Joseph Krafft: De Profundis, Levavi Oculos Meos.
By: Il Fondamento, La Sfera del Canto, Paul Dombrecht
(Passacaille 934)
Details:
Amazon.com
---
Recommended book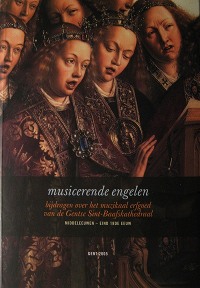 Bruno Bouckaert (red.), musicerende engelen – bijdragen over het muzikaal erfgoed van de Gentse Sint-Baafskathedraal. ISBN 9074311547.

---