The further one goes back into music history, the more authorship questions arise. It is even possible that one and the same composition is attributed to different composers in different historical manuscripts. Often, though not always, the availability of an autograph (the manuscript of the composer himself) provides sufficient evidence to attribute the piece. Of many pieces, however, only copies have survived. Therefore, it can be quite a puzzle to find the composer of a certain composition.
A recent solution of an authorship question added an interesting composer to Dutch music history. The compositions in question are six Concerti Armonici, a collection of concertos for strings and basso continuo, which were composed in the first half of the eighteenth century. To get an impression of the pieces, listen to these two fragments from the fifth concerto: Adagio-Largo (mp3 – source), and Da Capella (mp3 – source). In 1740 these concerti appeared in print in The Hague. The edition was prepared by Carlo Ricciotti, who was a well known music publisher and violist. He dedicated the music to the Dutch nobleman Willem Bentinck. In his preface, Ricciotti tells us that this music was composed by an 'illustrious hand'. He mentions no name, though. Since the compositions are of high quality, there has been quite some interest in the question to who this illustrious hand belonged.
In 1755, the score was printed again. This time in London by publisher Walsh. In those days, in which copyright was not regulated by law, such things could happen. Walsh attributed the pieces to Ricciotti. In later times further attributions were made to Georg Friedrich Handel, Johann Adam Birkenstock, Fortunato Chelleri and Giovanni Battista Pergolesi. The attribution to Pergolesi has been the best known. Probably because he already was famous for his Stabat Mater, which makes an attribution to him interesting from a commercial perspective. Who will buy a recording of concerti by a certain Birkenstock?
The solution to this question was found in 1980 by the Dutch musicologist Albert Dunning, nearly 250 years after the concerti appeared in print for the first time. Dunning discovered a manuscript of the six concerti in the archives of the castle at Twickel. Attached to this manuscript he found a note of the composer stating that he wrote the pieces between 1725 and 1740, and that he, although reluctantly, gave permission to publish them in print. By comparing handwritings, Dunning showed that the note was written by Count Unico Wilhelm van Wassenaer, who lived at the castle at that time.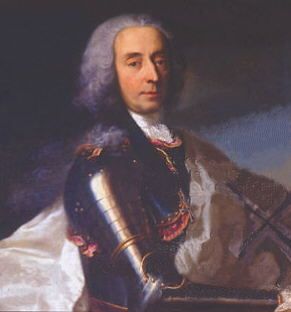 Graaf Unico Wilhelm van Wassenaer
After this identification, the pieces of the puzzle fell into place. Willem Bentinck, to who the compositions were dedicated, organized house concerts at which Carlo Ricciotti played first violin. Van Wassenaer had an high social position and consorted with important politicians. Probably he wanted to keep his musical activities private. Anyhow, with this discovery music history has been enriched with an interesting composer.
Recommended cd's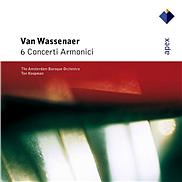 Wassenaer: 6 Concerti Armonici.
By: Amsterdam Baroque Orchestra; Ton Koopman
(Apex 0927495712)
Details:
Amazon.com
---
---