Anyone who is familiar with classical music knows the Italian Baroque composer Antonio Vivaldi (1678-1741). Particularly famous are his Four Seasons, of which almost as many recordings exist as there are violists. It might therefore be surprising that Vivaldi and his music were unknown for more than one hundred years. From several decades after his death until the beginning of the twentieth century, Vivaldi's compositions were rarely heard.
During his lifetime, Vivaldi was famous; not only as composer, but also as a violist. Apart from being a musician, he was a clergyman as well. In 1703 he was ordained priest, but soon he resigned, maybe because of a chronic bronchitis, or because his musical ambitions were in the end stronger than his clergical ambitions.
He wrote many compositions for the choir and orchestra of the Pio Ospedale della Pietà, a Venetian Institution devoted to the care of ophnaned girls, where he was appointed maestro di violino in 1703 and later maestro dei concerti.
Vivaldi was well known for his vanity. He stated, for example, that he was able to compose a piece in shorter time than someone else could copy it. This may be exaggerated, but it is definitely true that he was a quite prolific composer. The catalog that was compiled in 1973 by Peter Ryom (the Ryom Verzeichnis – RV), mentions more than 700 compositions, including aproximately 550 concertos.
Already during his lifetime, his reputation was declining. He probably died in poverty. He ows his rediscovery to another Baroque composer, Johann Sebastian Bach (who was actually forgotten for half a century as well). Bach transcribed some of Vivaldi's concertos for harpsichord and organ. For example, the concerto for two violins and orchestra op 3.8 (mp3 – source), was transcribed by Bach for organ: (mp3 – source).
Obviously, Bach was very interested in these concertos. When the Bach research came to steam in the nineteenth century, it was for this reason that researches got interested in Vivadi's music. They looked up Vivaldi's originals of the Bach transcriptions, and they concluded that Bach actually made it better. Only in the early twentieth century, Vivaldi was fully rehabilitated when musicologists discovered the important role he played in the history of the concerto – and with that, in the pre-history of the symphony. The rediscovery of his personal music archive in 1920 made his star rise even faster. Today he is among the big money makers for the classical music industry.
Recommended cd's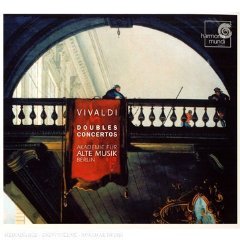 Vivaldi: Double Concertos.
By: Akademie für alte Musik
(Harmonia Mundi France HMC 901975)
Details:
Amazon.com
or
Emusic.com
---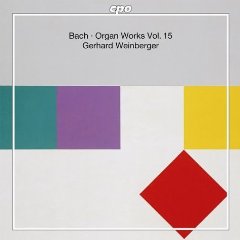 ---